My Recipes - Ice Cream Sculpture
Este contenido no está disponible en español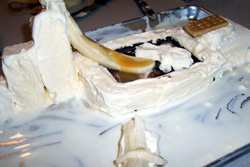 Description: Fun date idea!
Ingredients:
Ice Cream, in either brick or tub shape
Bananas
Chocolate, Caramel and/or Strawberry Syrup
Coconut, chocalate chips, peanut butter, or whatever other toppings you think will work in your artwork
Baking Sheets, aprons, knives, forks, and whatever other implements you might need
Directions: Can be done by individual couples as a competition or as a whole group. Take ice cream out of carton or tub, start sculpting. Add toppings to conform to your vision of art and taste.
Date added: vie. 26 may. 2006
---