I started shopping for a network-attached storage device several days ago, after a hard-drive failure on my main home computer wiped out most of the stuff I've done in the last year. All of the major online retailers had basically the exact same price of $399, so I decided to buy it from Amazon. I'd done some of the research for which make and model I should buy on my Android phone, and the very day that my package arrived from Amazon, my Google Now showed me this: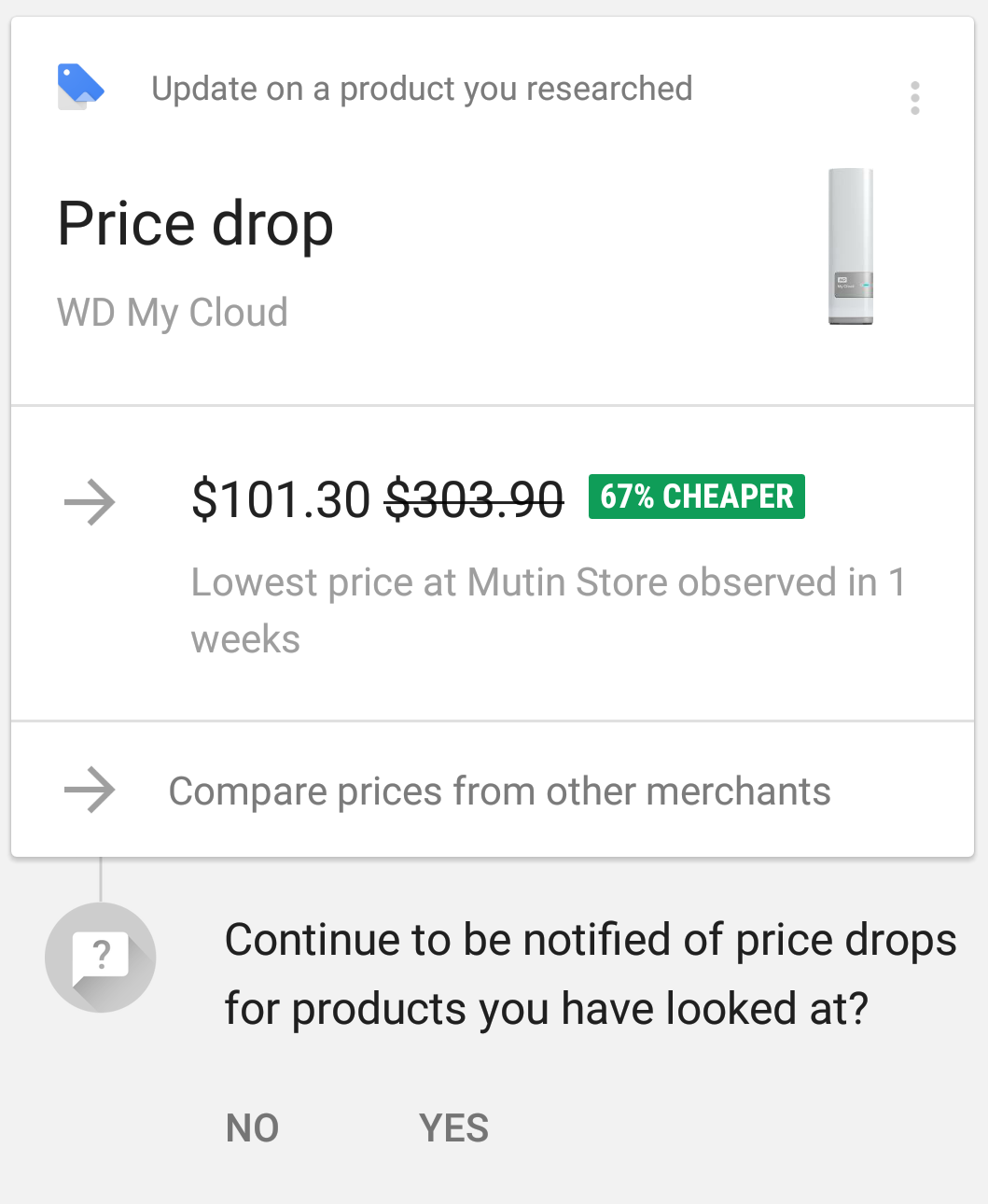 I'd never heard of Mutin Store, but the price sounded right. I verified that it was actually the same product, then canceled and returned my Amazon purchase, and ordered the one from Mutin Store. Right after I placed the new order, I got an confirmation email, which said that they were getting the shipment ready and that they'd charge my credit card once they sent it out.
I didn't think about it again for a couple of days, when I wondered if they'd emailed me a tracking number and when I'd get my package. I tried to log in on their site and they said they had no record of my account. That's when I started to get suspicious. I looked online for any other reference to Mutin Store and found this Reddit thread from the same day, asking whether their super-cheap offer of Philips Hue lights was too good to be true. Of course, the redditors shot down that deal, and I knew right away that I wouldn't be getting the NAS that I'd ordered from Mutin Store.
I checked my credit card statement online and found that they hadn't charged anything yet. (I figure that their plan was to wait until their unfortunate victim completely forgot about the purchase, then a month or two later hit them with a fraudulent charge way higher than the inital order price.) Regardless, I canceled that credit card immediately, which has been a bit of an annoyance for my wife Sarah, since it'll be about 10 days before our issuer Citi can get us a new card. I've also lost a couple of weeks of enjoying the original item I purchased, since I already sent it back, and the new one that I reordered from Amazon hasn't yet arrived. Also, sometime in the last few days, the Mutin Store site has been taken down.
Now, I admit that I should have been suspicious from the get-go. Online store you've never heard of? Check. Prices that were less than half of the market value of the item? Check. I never should have put my credit card into that site. However, the pseudo-endorsement from Google gave the site an air of legitimacy and made me artificially confident. I would have thought that Google Now wouldn't give me a price alert for a site that was an obvious rip-off. So the lesson learned is this: just because Google says that a site is offering an item at a good price, don't automatically believe it.